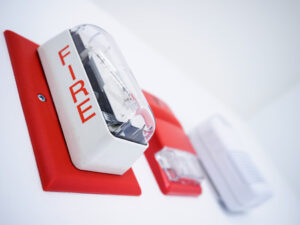 A fire could start inside of your commercial building at any time of the year. As such, it's always a good idea to remind yourself and your employees of the importance of commercial fire safety at the start of a new season. Take a look at four commercial fire safety tips you should keep in mind throughout this summer below.
Make sure your commercial HVAC system is always well-maintained.
When is the last time you had your commercial HVAC system serviced by a professional HVAC company? If it's been a few years now, schedule service immediately. The more time your HVAC system has to run this summer to cool down your building, the greater the chances of your cooling system overheating and putting your building at risk for a fire.
Clean out your exhaust fans and make necessary repairs to them.
Your commercial property probably has at least a few exhaust fans in it. Get into the habit of cleaning dirt, dust, and debris out of these fans and the vents that go along with them. This will prevent your fans from running as often as they are now and will lower your chances of experiencing a commercial fire.
Keep grills away from your commercial building.
It's not uncommon for some companies to fire up grills in the summertime during company cookouts. If your business is planning a cookout, don't fire up your grill too close to your commercial building. Don't put off cleaning your grill every now and then, either. You shouldn't allow grease and fat to build up inside the grill since they could spark a fire at some point.
Test out your commercial fire alarm system and have it serviced.
Hopefully, you have a commercial fire alarm system in place at the moment. But it might not be doing you any good if it has parts in it that aren't working properly. Test out your fire alarm system at the beginning of the summer and see if there are any services or repairs that need to be performed on it. It'll ensure your commercial fire alarm system is in tip-top shape heading into the summertime.
If you find that you do need parts in your commercial fire alarm system replaced, Life Safety Consultants is the company you can turn to for help. We have the fire alarm parts you need to keep your fire alarm system up and running. Call us at 888-557-0558 today to order parts for your system.