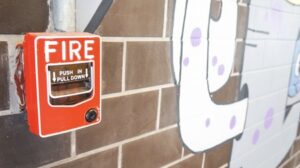 There are about 4,000 fires that take place in U.S. schools every year. Because of this, the National Fire Protection Agency recommends that schools hold at least one fire drill every month to protect teachers and students. A fire drill will let teachers and students know exactly what they need to do in the event of a fire. Check out some tips that will help your school make the most of your monthly fire drills.
Post fire escape plans in every classroom.
During the first couple fire drills of a new school year, many teachers and students are unsure of how to exit a building. Let them know how to do it by posting fire escape plans in every classroom. Teachers can use these fire escape plans to talk to their students about leaving a school safely during a fire drill.
Inspect hallways and stairways prior to fire drills to make sure they're clear.
The last thing you need during a fire drill is for teachers and students to have to navigate around desks, chairs, boxes, and other objects that are strewn all over hallways and staircases. If you're planning to hold a fire drill, take the time to clear your school's hallways and staircases to keep everyone safe.
Talk about how to improve fire drills after each one is held.
Fire drills should serve as learning experiences for everyone. Students should learn about how to exit a school quickly during a drill. Teachers should learn how to communicate with their students effectively while giving out orders about leaving the school. Moreover, administrators should learn steps they can take to make their drills better moving forward. This will make fire drills well worth the time your school invests in them.
In addition to holding fire drills regularly, schools should also test their fire safety equipment and replace anything that's not in good working order. Life Safety Consultants carries a large selection of fire alarms, smoke detectors, pull stations, and more that would be great for your school. Call us at 888-557-0558 today to hear about our products.