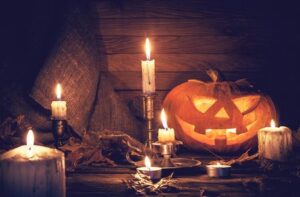 Do you like to light candles and place them inside of jack-o'-lanterns for Halloween? It's a great tradition that really helps get everyone in a festive mood. However, it could also potentially be a fire hazard if you aren't careful. In fact, there are all sorts of fire hazards that are, unfortunately, tied to Halloween and the decorations that are used to celebrate the holiday. Check out some fire safety tips, courtesy of the National Fire Protection Association, that you should implement this Halloween to prevent fires from starting.
Use battery-operated candles in jack-o'-lanterns instead of the real thing.
There is one simple way to cut down on the risk associated with placing an open flame inside of a jack-o'-lantern. Instead of putting a real candle inside of it, use either a battery-powered one or even just a glow stick. It will create the same effect without putting your home in jeopardy or causing an injury to someone.
Teach your children about staying away from jack-o'-lanterns with real candles.
While you might decide that going with a battery-powered candle is better than going with a real one, other people aren't always going to follow suit. So teach your child about what might happen if they get too close to a jack-o'-lantern with a candle inside of it. They could potentially touch the candle and get burned or knock the pumpkin over and cause a fire to start, and they should know about these dangers.
Steer clear of Halloween costumes that have long trains or lots of fabrics.
If a child is wearing a costume that has a long train or a lot of fabric, there's a chance the fabric could end up getting caught in a candle and igniting a fire. Long trains and lots of fabric are a safety hazard in general, but they can be particularly dangerous when it comes to open flames. Try choosing a costume that fits well and won't end up putting them in harm's way.
No matter how careful you are, there's always a chance a fire could start in your home, both at Halloween time and at other times of the year. To keep your family protected, you should invest in a reliable fire alarm system. Life Safety Consultants has plenty of options for you. Call us at 888-557-0558 today to place an order.