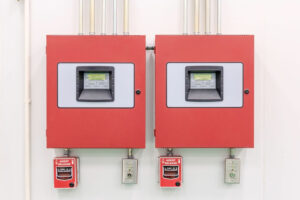 What's the purpose of a fire alarm panel? It activates a quick emergency response when there's a fire, letting people know they need to get out of the building.
Fire Alarm Panel Types
There are basic fire panels which sound an alarm when there's danger. More complex fire panels might call the local fire department and/or activate the building's sprinkler system.
Fire panels receive a signal from somewhere in the building that there's a fire occurring– and this signal can come from a connected smoke detector, a sprinkler system, or a manual call point/pull switch. So the fire panel doesn't detect fire on its own, but it does receive a signal that there's an issue somewhere in the building. Then the panel activates the alarm, which usually includes a loud noise and/or flashing lights to help warn people there's a problem.
Why is a fire panel important? Well, think of it as the brain of an alarm/sprinkler/safety system. Besides sounding the alarm and turning on sprinklers, additional features can include locking/unlocking certain doors, turning off electricity, disabling elevators, etc. It's not unusual for today's fire panels to be fully integrated with security systems. So, ultimately, its purpose is to keep people safe from harm.
Do you work in an office building and/or at a commercial property? How's your current commercial fire alarm system? Has it been checked and maintained? Perhaps you need a replacement fire panel? Life Safety Consultants of Palm Coast, Florida, carries quality replacement parts from a variety of manufacturers such as Simplex, Edwards, Siemens, Notifier and more. When you need essential fire alarm equipment at affordable prices, Life Safety Consultants can help; Call 1-888-557-0558 or email sales@lifesafetycom.com with questions. See our contact page, here, for more info.