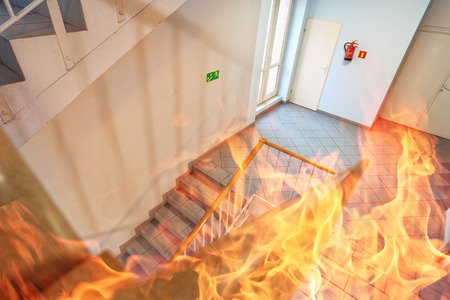 Most businesses have the required safety features their buildings need, but many forget to check if they adhere to basic fire safety rules. Fire safety violations are common in commercial buildings where owners and employees maintain a fast-paced work environment. It is easy to forget that just because you have the required smoke detectors and pull stations does not mean you can forget about fire safety.
Here are four common fire safety violations in commercial buildings that should be avoided at all costs.
1.Damaged or Missing Fire Extinguishers
Fire extinguishers are your first line of defense, and if they are missing or damaged, fires can spread faster. All fire extinguishers in your business should be fully charged, regularly inspected, and classified for each area of your building. Ignoring inspections and maintenance of fire extinguishers is one of the most common violations.
2.Blocked Doorways
Blocked passages and exit doors are common in busy workplaces. When people leave goods or packages in front of doorways or exits, they risk a life-threatening situation for employees if a fire breaks out. All exit doors, stairways, and walkways should always be clear for the safety of everyone inside.
3.Untested Smoke Detectors and Fire Alarms
Fire alarm systems must be tested annually by a licensed technician. If these fire systems are blocked by merchandise or work equipment, testing them can be easy to forget. Smoke detectors must have their batteries changed when they begin chirping. Life Safety Consultants can easily provide your business with smoke detectors or fire pull stations if yours are missing or damaged.
4.Hanging Items from Piping and Fire Sprinklers
You should not hang items on exposed sprinkler heads or piping in any business. These sprinkler systems could accidentally be activated, causing water damage to your building. Lightweight items may seem harmless to hang, but they can cause serious and costly issues.
A fire can double in size in less than 30 seconds, making it crucial to do all you can to prevent one from happening. If you are missing or have broken or damaged fire safety equipment, call 1-888-557-0558 to order replacement fire alarm parts.