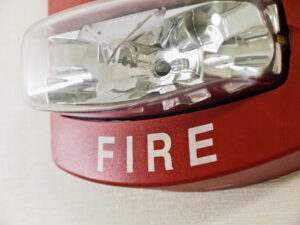 If a fire were to start in your building today, how would your commercial fire alarm system respond to it? You should feel completely confident in your fire alarm system's ability to spring into action as soon as a fire starts. There are some simple steps you can take to ensure that your commercial fire alarm system is working the way it should. Keep reading to find out what you can do to keep your system on high alert at all times.
Inspect your system on your own from time to time
When you're walking around inside your commercial building, you should inspect the parts of your fire alarm system that you can see and take note of any potential problems. For example, if you see a fire sprinkler that's leaking or a fire extinguisher that isn't fully charged, you should seek to change that right away. You should try to conduct visual inspections on your system once every few weeks, if at all possible.
Hire a company to test your system on a regular basis
In addition to inspecting your commercial fire alarm system, you should also have it tested regularly to make sure that all the different components inside of it work. To do this, you'll need to bring a certified fire protection technician on board to get the job done. They'll put your system to the test and see how it performs under emergency conditions.
Schedule the necessary maintenance and repairs to your system
You can inspect and test your fire alarm system all you want, but there are going to be times when parts within the system give out on you and need to be replaced. If you need to replace or upgrade any parts in your system, you shouldn't hesitate to do it right away. The sooner you can do maintenance and repairs to your system, the sooner it'll start working like it's supposed to again.
If you need to replace any parts found in your commercial fire alarm system, Life Safety Consultants can supply them to you. Call us at 888-557-0558 today to order the parts that you need to get your system up and running like normal again.