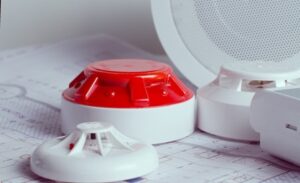 When you install a fire alarm system inside your commercial property, you'll have the option to choose either a standard fire alarm system or a monitored fire alarm system. Before you decide on one over the other, you should take the time to educate yourself as far as how each of them works. It'll help you make the right decision when selecting a fire alarm system to install. Here is what you can expect from each of the options.
Standard fire alarm systems
Standard fire alarm systems are designed to alert people to the presence of a fire inside a building when they detect one. They'll often make loud sounds and activate blinking lights to let people know that there is a fire in the building that they're in so that they can get out. The one downside with them is that that's as far as they go. They won't alert the appropriate authorities about a fire, which will be a problem if there isn't anyone in the building at the time. The fire will continue to spread until someone happens to hear the fire alarm system outside.
Monitored fire alarm systems
Standard fire alarm systems work well for many business owners but monitored fire alarm systems take things to the next level. Like standard systems, they'll alert those inside a building that a fire is taking place. Nevertheless, they'll also get in touch with the local authorities to let them know a fire has started. This makes them useful for those who don't always have someone inside their commercial property. It'll provide round-the-clock fire protection and make sure a fire doesn't go undetected inside a building for very long. The one downside with these systems is that they often require a monthly monitoring charge, which isn't always in the budget for every business owner.
Which fire alarm system is right for you?
If you're trying to decide whether to install a standard or monitored fire alarm system, you should start by weighing the pros and cons of each. You should also consider the cost associated with the two options and look at the layout of your building to see which would work better for you. From there, you can have the right fire alarm system installed so that you can start putting it to use right away.
Regardless of what kind of fire alarm system you have installed in your commercial building, you should make sure you're using the proper parts in it. Life Safety Consultants can provide you with parts for whichever fire alarm system you're using at the moment. Call us at 888-557-0558 to order parts for your system.