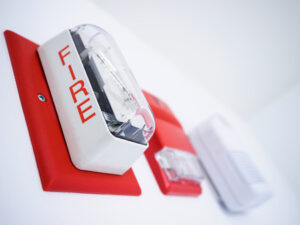 What are the basics of a commercial fire alarm system?
Fire Alarm Control Panel
First, there's the fire alarm control panel. This is a box that could be considered the brain(s) of the fire alarm system. It's the central point for communication and it's the box that ultimately relays information. For instance, when a device like a smoke detector detects smoke, it will send out a signal. This signal is received by the fire alarm control panel, which then relays it to the monitoring center as well as any notification appliances in the building, such as strobe lights and/or speakers.
Initiating Devices
Next, there are initiating devices, which are pieces of equipment that will signal an alarm if/when they sense smoke and/or a fire. There can be automatically actuated devices which don't need human interaction– they're operating even when no one is in a building. A perfect example? A smoke detector on the ceiling or wall. There can also be manually actuated devices which will send an alarm signal to the control panel when a person wants it to… examples of these devices include pull stations, break glass stations, fire alarm boxes and/or call points. Local code requirements will dictate where initiating devices are placed and how many are needed per room/building.
Notification Appliances
Finally, there are notification appliances. These devices alert people that there's a potential problem in their vicinity. For example, if you're in a room or building and you see a strobe light going off, and/or you hear a siren or an audible "warning" telling you there's a fire, you're dealing with notification appliances.
Life Safety Consultants sells many devices used in commercial fire alarm systems. Want to see various pull stations? Go here. Need pull station covers? Check this page. Do you need fire alarm parts? Here they are. And how about smoke detectors? Life Safety Consultants is the Internet's leader in replacement fire alarm parts and components. For more info, please call 888-557-0558.