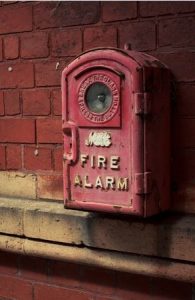 The fire alarms that are installed in many homes and businesses today are very complex. They incorporate a series of sensors and the latest technology to detect fires quickly, and in many cases, they are designed to alert the authorities right away about the presence of a fire. They can save lives, reduce property damage, and give you the peace of mind that comes along with knowing that you have a fire alarm installed in your home or business. However, it wasn't always this way, as fire alarms have evolved greatly since they were first introduced to the public.
Who Invented the First Fire Alarm System?
The first fire alarm system ever was invented way back in 1852 by Dr. William F. Channing and Moses Farmer. The system consisted of two fire alarm boxes that each had a telegraphic key and a handle. If a fire was detected in a home or business, someone would have to reach inside one of the boxes and crank the handle in order to send an alert about the fire to a nearby alarm station. An operator at the station would then take the message and alert a fire department about it so that they could send help. As you can see, it was quite a process and required several steps.
The first electric fire alarm system was invented almost four decades later in 1890 by Francis Robbins Upton. He recognized that, in most cases, people wouldn't have time to stand around and crank a handle inside of a box when a fire started. Therefore, his electric system eliminated the need for this step. Surprisingly, the design for his system wasn't all that popular when it was first introduced, but over time, people started to realize the need for a more advanced fire alarm system like this one.
Since then, fire alarm systems have changed a lot, and today, home and business owners really don't have to do anything except evacuate the premises during a fire. Even basic fire alarm systems are designed to send an alert to a central alarm station, where an operator will quickly check on your well-being before sending help from a fire department to check on your home. The entire process is much quicker than it used to be, and modern fire alarms have become a must-have for many people.
There is a range of fire alarm systems available right now, and Life Safety Consultants can help you pick out the one that will work best for you. If you are interested in finding out about your options, call us at 888-557-0558 to speak with someone about the fire alarm systems we can install at your home or business.