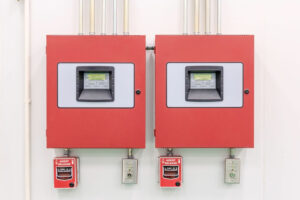 Control stations for fire alarms are important because they're a critical component when it comes to a property's safety and security plan. Control stations are like having a person watching and waiting to see if there's a problem at a property, and, when there is, they notify the authorities to come deal with it. Of course, these days, thanks to automation and technology, it wouldn't make sense to hire one person to constantly be on the lookout for signs that an alarm is going off somewhere in your building– that's where the control station comes in.
Other Things to Know About Control Stations
Control stations are able to receive signals for a customer's premise via a communication path. This path may be over the Internet or perhaps done through a phone line. The station receives a signal that an alarm is going off, and then it notifies the appropriate authorities that this is happening so they can do something about it.
Typically the control station will let an operator at a monitoring facility know that an alarm has gone off. The operator can then assess the situation and, in most cases, alert the local fire department to go check it out, quickly.
Fire alarm monitoring is helpful because it allows for a response to an alarm condition even during non-business hours or at times when no one is on site. It can also be helpful if building occupants are, for whatever reason, unable to call 911.
A control station helps control a fire alarm system; It essentially monitors fire alarm signals and such things as sprinkler flow alarms/systems, suppression systems/discharge, hold-up alarms, temperature alarms, etc.
If you have a fire alarm system in your building that currently needs replacement parts, or you're looking for advice on such systems, in general, please talk with Life Safety Consultants by calling 1-888-557-0558.