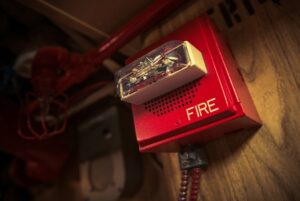 When you want to protect your business from fires it's a good idea to have a commercial fire alarm system in place and "on" just in case something goes wrong. You never know when, where or why a fire might start. It could be someone tossing a cigarette somewhere without putting it out all the way. Or it could be an electrical wiring issue. No matter what the reason, fires are bad. No one wants them– they can devastate a business.
There are different types of commercial fire alarm systems available today, many of which utilize modern technology.
Automatic Versus Manual Systems
Take, for instance, automatic versus manual systems. With manual systems, a person needs to physically activate the fire alarm. Usually, this requires a person to pull down a lever at a pull station in a certain location. This could be a problem if the fire is "in the way." Automatic systems, on the other hand, sound the alarm automatically– there's no need for human intervention. Meanwhile, the monitoring service is notified immediately so help can be "on the way" quickly.
Conventional vs Addressable Systems
What about "conventional systems" versus "addressable systems?" Conventional systems can be either manual or automatic. Buildings are divided into zones. Each zone gets its own fire alarm which is then connected to a main control panel. Addressable systems take it a step further in that they allow the monitoring people to know exactly which alarm "went off where." This helps direct first responders to the problem area immediately, rather than walking into a building and knowing a "general zone" versus "exactly where the alarm sounded."
Expandable Systems
Commercial fire alarm systems are often expandable, and they can offer various options such as sprinkler systems, which automatically dispense water or chemical fire retardant when needed. There are also containment systems that help "lock down" areas so the fire can't easily spread. And there are special ventilation options which can help remove/reduce smoke/fumes in certain areas.
Life Safety Consultants of Palm Coast, FL, offers a variety of fire alarm parts, smoke detectors, pull stations, and batteries for commercial fire alarm systems. For more info, please call 888-557-0558.