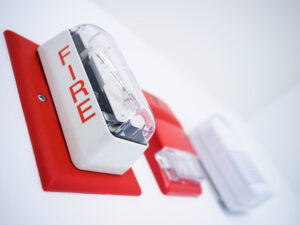 Every year, there are almost 100,000 nonresidential fires that take place inside commercial properties all across the country. Some of these fires start in a kitchen while someone is cooking. Others start as a result of an electrical malfunction. Protect your business by having a commercial fire alarm system installed. Here are several reasons why it's so important for you to use one.
Stops small fires from turning into much bigger ones
Just about all fires that start inside commercial properties are small at the beginning. But those fires can quickly grow out of control in no time. A commercial fire alarm system will let you know about the presence of a fire within just a few seconds of it starting. This will give you time to react so that you can reduce the chances of the fire getting bigger and bigger.
Protects valuable equipment and inventory
Most businesses have tons of valuable equipment and inventory inside them. Some of this equipment and inventory can be replaced in the event of a fire. But you might not be able to replace certain items in the aftermath of a blaze. A commercial fire alarm system can prevent a fire from swallowing up all your equipment and inventory at once.
Lowers insurance rates
If you don't have a commercial fire alarm system installed in your business, there's a good chance your insurance company is charging you a fortune every month to keep your insured. By putting a proper fire alarm system into place and maintaining it over the years, you can reduce your insurance costs dramatically.
Provides business owners with peace of mind
Business owners have enough to worry about each and every day. From creating schedules for their employees to taking care of payroll, there is a lot on their plates. A commercial fire alarm system will give a business owner one less thing that they need to think about day in and day out.
Prioritize your commercial fire alarm system by having it tested regularly and replacing any parts within it that are worn out. Life Safety Consultants carries a variety of commercial fire alarm parts and can provide you with them. Call us at 888-557-0558 today to order new parts for your fire alarm system.