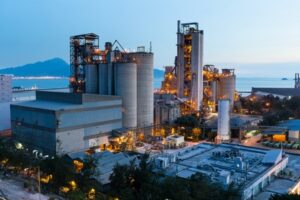 We know you take your workers' safety seriously, but are you doing all you can to prevent fire? Here are some tips to keep in mind so that your factory's photo will never be featured in an article about fire safety.
When a fire occurs in a large space that's filled with people, the leading cause of death is asphyxiation because fire consumes all of the breathable oxygen in the area as it rages. For this reason, your workers should always know where their nearest exit is.
Make sure to conduct frequent and regular fire drills, so that each and every person who works in your factory knows what to do in the event of a fire. If there's a fire on the floor above them, should they go down to street level? If there is a fire on the floor below them, should they go up to the roof?
Making sure that everyone knows where to go will mitigate the risk of asphyxiation. If everyone can get to a safe floor or out of the building, they'll be able to breathe safely. Fire exits should be unobstructed at all times.
Flammable materials should be kept in a safe place (preferably a flame-retardant container), and your employees and workers should know where those areas are. If you have a designated smoking area, make sure it's far away from where you keep the flammable materials.
Fire doors and shutters should be kept closed at all times, regardless of how inconvenient it may be for some employees. Fire doors and shutters that are working properly can stop the spread of fire from one section of the building to another. Remind your workers to always close the fire doors and shutters behind them on their way out of the building as well.
If you have an employee who is unable to use the stairs, either permanently or temporarily, make sure he or she notifies the front desk or security. That way, when the fire department arrives in the event of an emergency, they can provide a list of people who may need extra attention and may not have been able to exit the building via the stairs.
These are just a few of the many things you should bear in mind when it comes to factory fire safety. For more information, or to learn about our fire safety products, contact us at Life Safety Consultants today.