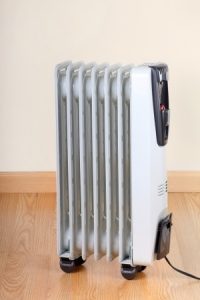 As the cold weather slowly creeps in, we scramble to layer on clothing to fight the winter chill. When severe weather causes the cold to come indoors in our offices and workplaces, we turn the heat up to combat the frigid temperatures. Portable space heaters can create a comfortable environment for our workspaces, but they can also constitute serious fire hazards if you're not careful. While space heaters are especially dangerous in residential settings, they can also pose a threat to workplaces as well.
Consider your heating needs.
Are you trying to heat a small space or a large area? A large electric space heater in a small area can consume an excessive amount of energy, leading to higher utility bills. However, trying to use a small space heater to heat a large space causes the heater to work harder to heat the space, potentially leading to overheating. Find a heater to fit your space that allows it to work only as hard as it needs to without overheating.
Find heaters with updated safety features.
Newer, updated space heaters include safety features such as a tip-over switch that automatically shuts off the heater if it gets knocked over for any reason. Overheat protection switches shut off the unit when the unit's temperature sensor detects when internal components become too hot.
Leave space around the heater.
Place your space heater at least 3 feet away from furniture, window treatments, bedding, clothing, rugs, etc. Such items increase the risk of fire if they come in contact with a space heater's hot surfaces. Place the heater on a hard, level surface with plenty of space around the heater. Also, keep your space heater away from water sources and do not handle with wet hands.
Avoid extension cords.
Plugging your space heater into an extension cord increases the chance of overheating, fires and electrical shock injuries. Plug your space heater into a robust surge protector instead. Also, you should always unplug the heater when not in use.