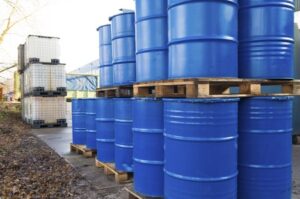 When a company exhausts the resources in an industrial-size steel or plastic drum, they don't just leave it out for trash pickup. Instead, they'll typically send it to a facility where drums are cleaned, reconditioned and tested so they can be reused somewhere else. Unfortunately, these drums aren't always completely empty when they reach reconditioning facilities.
When partially-empty barrels are left to pile up while they wait for reconditioning, these facilities can become dangerous fire hazards. A recent article in the Milwaukee Journal Sentinel described the risk that industrial barrel fires can pose to businesses and nearby homes in vivid detail. Milwaukee is home to a number barrel refurbishment plants, and in 2005 one of these facilities erupted into flames, destroying a 23,000-square-foot building. Firefighters struggled to fight the blaze due to the chemical contents of the drums and the heavy equipment that blocked their path.
The article also describes a similar incident which took place at an Indianapolis plant in May 2014. In this incident it took 80 firefighters to get the barrel fire under control, and it ultimately destroyed most of the 30,000-square-foot facility. Just one month later, a fire at the Scranton Cooperage in Jessup, Pennsylvania caused a series of drums to rupture and explode, launching at least one barrel more than 100 feet in the air. As a result, residents in a nearby neighborhood had to be evacuated from their homes. In this case, the owner of the plant was charged with multiple counts of mishandling hazardous chemicals.
Preventable fires such as these are important reminders of just how important it is for companies to properly handle and dispose of hazardous materials. These fires not only pose a threat to the business itself, but to the surrounding community as well. By following proper handling and disposal procedures for hazardous materials, you can make your business and your community a little safer.