When a fire alarm sounds, it can be a nerve-wracking experience. Not knowing if the sounded alarm was caused by an actual fire or a faulty system requires the investigation of the premises, which can put people at risk.
Faulty fire alarms are common, but completely unnecessary occurrence as long as the fire alarm system is consistently checked and maintained. In places that house a large quantity of people, faulty alarms can pose risk just from being unnecessarily evacuated from the building.
Hotels are one of the places where you might experience a faulty system. With a lot of people occupying the space, many electrical systems running 24/7 and food service, the chances of the alarm going off are higher.
Hotel management never wants to run into a scenario of alarming and evacuating hotel guests. At those times when a hotel is accommodating high profile guests, faulty fire alarms are one way of costing the hotel its business.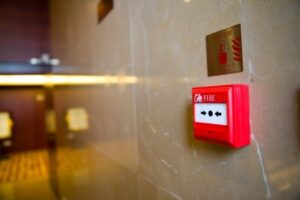 With the NFL almost underway, local hotels are hot spots for the team players, coaches, and their family members. Due to the sheer number of players, hotels typically block off a section of rooms for the team in hopes of offering superior service and privacy.
In these cases of accommodating teams, hotels want everything to go perfect.
For Super Bowl XLIX, the New England Patriots had to deal with a faulty fire alarm system going off twice. Restless nights are not what football players want to endure. While hotel management did apologize for the inconvenience and promise to rectify the situation, faulty fire alarms are still an annoyance.
To avoid a situation such as the above, be sure your fire alarm system is up to code and maintained frequently. If you notice a defect in your fire alarm system, contact Life Safety Consultants today.