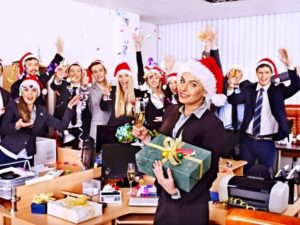 The holiday season is in full swing, and that means businesses all across the country are decorating their offices and hosting holiday parties for employees. This is a great opportunity to bring a little festive cheer into the office, but Christmas decorations can also constitute fire hazards if you're not careful. Today we'll show you how to decorate your office without compromising fire safety.
Hang Lights Right
Be sure to get indoor lights that are safety certified by the Underwriters Laboratory (UL). The UL label should be located in a conspicuous location on the box. Use plastic clips to hang lights instead of nails or tacks. Avoid using extension cords if possible, and always plug lights into a surge protector.  If you must use an extension cord, keep it secured away from high traffic areas where it could get damaged.
Opt for Artificial Trees
Natural trees might be nice, but they are also the foremost fire hazard associated with the Christmas season. Unfortunately, it's just not worth the risk of having a natural tree (or wreath, for that matter) around the office. The good news is, there are plenty of good-looking artificial options available these days.
Prepare for Holiday Parties
If you're going to host a holiday party in the office, it's important to prepare the space for guests first. Make sure fire exits are clearly marked and unobstructed by things like catering tables and decorations. Remove potential fire hazards from the space in advance, and keep a fire extinguisher on hand in case of emergencies. Make sure that your guest list doesn't exceed the maximum occupancy limit for your office. If you're concerned about not having enough space, consider hosting the party at a second location instead.
Have fun, and stay safe! With a little care and preparation, you can decorate your office for the holidays without worrying about creating a fire hazard.